Laguna Niguel Stone Pavers
Leading Stone Pavers Contractors in Laguna Niguel, CA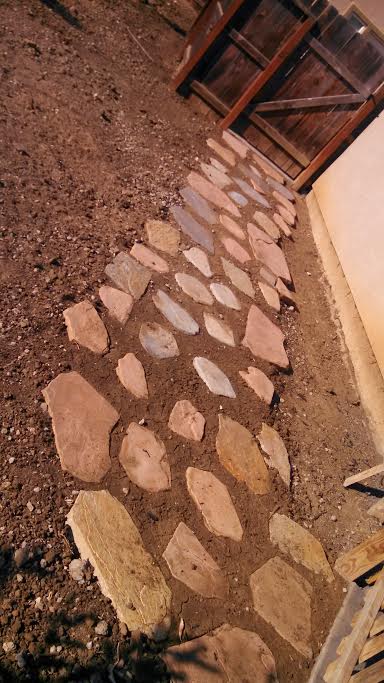 Stones are generally an excellent choice for all your house construction needs. The natural rocks are strong, and they are beautiful to look at. For similar reasons, we see so many stone pavers as well. Stone pavers are used in backyards, patios, pathways, or in driveways. They provide you the luxury of stones along with durability and reliability.
Stone pavers are one of the three leading materials in the market. Concrete pavers are the widespread choice, thanks to their reliability and cost-effective installation. But concrete pavers do run the risk of looking bland and boring. On the other hand, brick pavers are a great choice. You get the excellent strength of bricks and the classic brick color. But, with stones, you get the touch of luxury. Stone pavers add the all-important elegance to your house. So without further ado, let's look more into the stone pavers.
Call (949) 635-7090 for stone pavers installation in Laguna Niguel.
Why Go For Stone Pavers?
As we have discussed so far, stones are naturally strong. They are very reliable as pavers as they withstand extreme weathers effectively. But, the special feature of stone pavers is the wide variety they bring to the table. Natural stones are gorgeous to look at, thanks to their composition and structure.
The characteristics of stones vary from region to region, and that's why you end up having a wide range of designs to choose from. For someone who doesn't want to go with the run-of-the-mill pavers in the market, stones provide the perfect opportunity to customize the designs to suit your personal taste. The appeal of stone pavers is so strong that many concrete pavers try to imitate the looks of the stones. But there's hardly anything that can beat the original.
What are the Best Stone Pavers to Go For?
Depending on your region, you will find plenty of options to choose from. But we are here to narrow down a few. If you need professional help and guidance to figure out which one might suit your project the best, just give us a call at (949) 635-7090.
Granite – It's no secret granite is the most used stone paver out there. Thanks to their beautiful look and efficient performance, granite can be the obvious choice for you.
Cobblestone – Cobblestone is another great choice for a stone paver. They have a unique touch, and they withstand water excellently.
Bluestone – Bluestone is one of the most used materials, just like granite. Bluestone pavers provide you reliability, stability, and looks.
Travertine – Travertine can be an out of the box choice for you. Travertine was widely used in ancient Roman structures, and they look beautiful in kitchens and in bathrooms. If you are looking for some Roman flavor, Travertine can be your option.
Apart from these, there's obviously sandstone, which is a very reliable option. If sandstone's color is not your favorite, then you can go for quartzite, limestone, slate, and flagstone. One thing you remember is that transporting stones is not the most convenient thing out there. And also, stones aren't the best pavers for heavy traffic places, so they are more suitable for houses.
Stone Pavers Installation
Stones are generally strong, but they do need to be handled properly so that the pavers don't develop cracks. Depending on the stones, the features vary, and you will need professionals who have excellent knowledge of each stone. That's why it's always best to hire professionals who can provide you the required expertise. We at Laguna Niguel Pro Concrete provide you the necessary guidance and experience for stone pavers installation so that you can get a flawless design. If you need to know more about us and what makes us the best, just give us a call, dial (949) 635-7090, and we would be happy to help.