Laguna Niguel Concrete Pavers
The Number One Concrete Pavers Contractors in Laguna Niguel, CA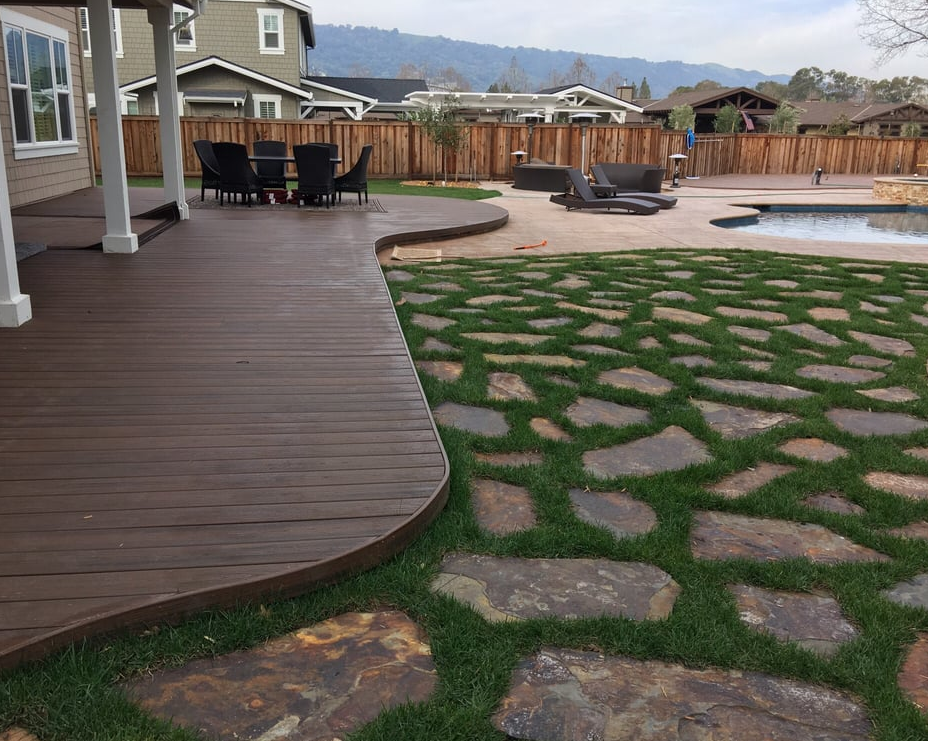 If you are concerned about maintaining the surface of your landscape but don't want to spend a hefty amount behind it, concrete pavers are a great option for you. They work perfectly for making sidewalks, pathways, and outside flooring. As you already must know, concrete is a very strong material. Hence most leading contractors and customers prefer to install concrete pavers for their household. You can also use pavers for your driveway, as they are extremely reliable and resilient.
Are you looking for concrete paver installation in the Laguna Niguel, CA area? You are absolutely in the right place. Laguna Niguel Pro Concrete is here at your service. Call us at (949) 635-7090.
Different Types of Pavers
As concrete and masonry contractors, we deal with different types of pavers. People have their own tastes and preferences when it comes to the paver installation. Pavers are great at providing a nice structure to your landscape and adding a touch of beauty to your house. Pavers protect the surface of your property, and also make them long-lasting. You can choose from concrete pavers, brick pavers, and stone pavers. Now let's have a look at these three main kinds of pavers.
Stone Pavers
When it comes to paver installation, an obvious choice is stone pavers. Stones are natural materials. They are undoubtedly very solid, and stone pavers exude style, luxury, and elegance. But the downside of stone pavers is the fact that stones can be difficult to outsource. Moreover, since we are talking about authentic stones here, installing them can be pretty expensive.
Brick Pavers
When someone mentions pavers, we inevitably think about bricks. A layer of bricks lying on the floor, covering your driveway or sidewalks, really looks aesthetic. Many house owners desire the natural and rustic look of bricks. Bricks are also great at enduring heat, water, and other natural pressures. But if your house has a modern design, bricks may not be a perfect match to suit your aesthetics. Brick pavers look amazing in traditionally designed houses.
Concrete Pavers
Now, let's finally talk about the star of the show, concrete pavers. You must have seen them everywhere, lying uniformly on the ground. Concrete pavers are basically blocks made of concrete, that is laid on the floor to create a simple yet effective covering for your sidewalks, driveway, or pavements. Concrete pavers are interlocked together to provide extra safety. As compared to brick and stone pavers, concrete pavers offer a plethora of designs, colors, textures, and finishes. Moreover, they come with a less expensive price tag. That is why concrete pavers still remain the most popular choice for constructing pavements.
Now that you know all about different types of pavers, you can decide which suits your project. To get a more in-depth insight into paver installation, feel free to contact Laguna Niguel Pro Concrete at (949) 635-7090, and we would be more than glad to help you out with all your queries.
Why Choose Concrete Pavers
Among the different types of pavers, concrete pavers obviously have the upper hand. Wondering why? Let's have a look.
Concrete pavers are more affordable than any other type of pavers.
Concrete is very strong and sturdy and works great at protecting your surface.
The best feature of concrete pavers is their customizability. You can find a color, texture, and style according to your choice. Concrete doesn't need to look boring anymore.
Professionals can provide you a hassle-free installation.
Interlocking technology makes concrete pavers more reliable than any other pavers.
If there is any problem with a single paver, you can easily replace it.
Hire Laguna Niguel Pro Concrete
At Laguna Niguel Pro Concrete, we do not compromise on our quality of work. Our team of expert masons ensures that our clients are completely satisfied with our services. You may find many concrete contractors around, but you should trust only the best for your project. We are proud of our top-quality services, thanks to years of experience, expertise, and unmatchable skills of our craftsmen. So if you are planning to install concrete pavers, call us today at (949) 635-7090 to get a free quote!