Laguna Niguel Concrete Countertops
Most Reliable Concrete Countertops Contractors in Laguna Niguel, CA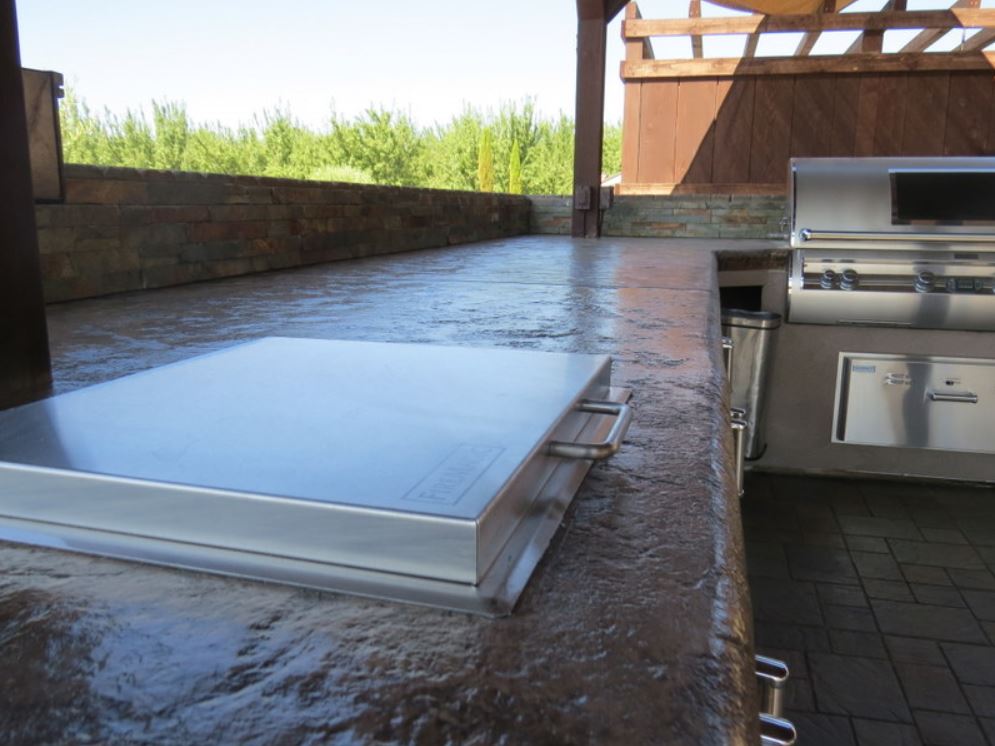 A concrete countertop is an essential part of any household. It adds a great amount of value to your kitchen space while also maintaining its visual appeal. In case you are living in the Laguna Niguel area in California and planning to build a concrete countertop for your house, choose the best concrete contractor in town– the Laguna Niguel Pro Concrete.
Call us today at (949) 635-7090 for a free quote!
To give your kitchen a makeover, you can start by installing a pretty countertop. Whether it's for an indoor kitchen or an outdoor kitchen space, a countertop is a must. But remember that only a good looking countertop won't suffice. It also needs to be hardy enough to endure the pressure of a busy household and daily wear and tear. 
Some of the popular materials for countertops are Granite, Quartz, Quartzite, Marble, and of course, concrete. Concrete comes as an inexpensive alternative to Marble or Granite. While using authentic stones may cause a hole in your pocket, installing a concrete countertop is extremely budget-friendly. 
Why Choose Concrete Countertop? 
Now you must be wondering, why go for a concrete countertop, when there are so many other options available? There are quite a few reasons why concrete still remains a popular choice for making countertops.
A concrete countertop is basically a thick slab made of concrete. But if you are not a fan of the grey color of concrete, you can always go for colored concrete, concrete stamps, or stained concrete, that will give you a beautiful finish. Decorative concrete can easily recreate the look of rocks, wood, granite, marble, etc. You can customize the texture and color as per your own choice. 

A concrete countertop is very strong, and it will last for a very long time.

The concrete countertop installation is quite budget-friendly.

Concrete countertops bring in a lot of aesthetic value to your kitchen.

Even if your countertop develops cracks over time, it's easy to fix them. 

Concrete can tolerate heat well, which makes it perfectly suitable for kitchens.

Concrete is resistant to scratches and spots; hence you can retain the flawless look of the countertop for years to come. 

They remain a favorite owing to their uniqueness of design and versatility.

If you love the idea of an outdoor kitchen, a concrete countertop would be an excellent choice. Concrete doesn't get easily damaged by exposure to water or any other natural force for that matter.a
If you are having any doubts about countertop installation, you can get in touch with us. With years of experience and a great deal of expertise, we can advise you on which kind of countertop would best suit your house.
Reasons for Choosing Laguna Niguel Pro Concrete
Laguna Niguel Pro Concrete is the leading concrete contractor in California. Whether you are a new home builder or looking forward to refinishing your kitchen, we are here to help. Our skilled craftsmen will ensure that your countertop installation goes smoothly and won't leave you with an opportunity to complain. Our experts are not only good at their masonry but also possess a strong sense of aesthetics.
Concrete works seem to be an easy task, but in reality, they are pretty intricate. One wrong move can ruin the entire structure in just a moment. That's why it's better to refrain from implementing projects on your own. You surely don't want to mess up with a kitchen countertop. It needs to be of the perfect length and breadth, and its weight needs to be apt. Improper construction or installation may ruin the entire look of your kitchen. So we strongly advise that you should trust none but the best concrete contractors in town.
To install concrete countertops in Laguna Niguel, and to get a free quote, call us right away at (949) 635-7090!